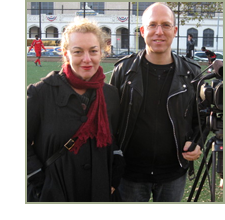 In September 2009, the Washington Heights YM+YWHA program director, Vicki Neznansky, approached Peter and me about documenting an upcoming teen musical. "This is not going to be some amateur kid production," Vicki assured us. "It's going to be a big, life changing experience that will speak to the whole community and beyond." Vicki proceeded to describe how the story of the musical would be based on a true but little publicized chapter of Holocaust history when the murderous dictator of the Dominican Republic, Generalissimo Trujillo offered refuge to 800 European Jews. They ultimately came to settle in the deserted outpost of Sosua from 1939 until the end of WWII.

Vicki then announced that the illustrious Broadway director, Liz Swados, had agreed to direct and compose the show. Swados has been a hero of mine since her 1978 hit, "Runaways". Peter and I were intrigued and curious about how the project would unfold and agreed to film the first day.

We arrived early and trailed the kids who auditioned in groups of ten. There we filmed for the first time, John, 17, who shared hilarious stories on being the only Dominican scholarship student at an elite Princeton boarding school and Nomi, 12, who candidly dissected her raw experience at the Y camp where the Dominican and Jewish girls assiduously avoided contact with each other. Then there was Jordan, 14, a heavy set boy who declared – on camera, "I want to prove them wrong – the kids who tease me – I want to show them that I can be somebody."

Peter and I were both hooked – we could see the seeds for a feature documentary. The structure of the "making of" chronology would enable us to explore and interweave a compelling array of themes. We'd have the "fly on the wall" perspective on the creative process of a world-class theater artist with a unique approach to workshopping material with young people. The historical underpinnings for the show offered the opportunity of including rare archival materials in a fresh light. Most importantly, the film would tell the individual stories of adolescents who are unguarded and articulate interpreters of what it means to come of age – and to come together – in a diverse urban neighborhood.

We spent the next ten months filming the kids at rehearsals, celebrating holidays, and kibitzing during down time and also at home, in their schools and communities. In that time, we strived to capture the elusive quality of what it means to have a life transforming experience – especially at this critical moment in the kids' development. As Liz says, "It doesn't happen in a day; it doesn't happen in even a year – it's not Disney but you can see it in their eyes." We not only had the privilege of seeing it "in their eyes" but also witnessing the creation of a community that did indeed transform lives. I hope that some of the magic of this visionary project has been captured in our film – and will indeed go beyond "the whole community" to touch viewers with its honesty and passion.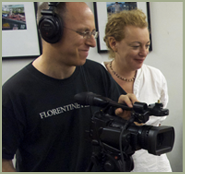 I'm drawn to stories of how history shapes our lives. The films I've made about the past are always just as much meditations about the present, using historical stories as a lens for understanding who we are today. Among my most recent films are two about Jewish subjects; Jews and Baseball and AKA Doc Pomus, and one about Latino history, A Class Apart: A Mexican American Civil Rights Story. Each film was at its heart about underdogs overcoming bigotry and barriers to become vital parts of the American mainstream. Sosua: Make a Better World is in many ways a culmination of all of the stories I've been fortunate enough to tell in my films. It's been an amazing experience watching the Dominican and Jewish teenagers come together to learn about their common past, and in the process, discover what unites them in the present. Jews and Latinos live side-by-side in Washington Heights but too infrequently interact. That putting on a play about a little-known story from the Holocaust brought them together is testament to the power of history and the necessity of the arts in our lives. I am overjoyed that my friend and filmmaking partner Renee Silverman invited me to join her in documenting this amazing story. And I look forward to sharing the Sosua story with audiences and thinking about ways in which more barriers can be brought down in our wonderfully diverse nation.
About the Film | Directors' Notes | Biographies | Credits | Partners | Sosua History